Press & Stories
CNN Fortune 500 Small Business—Hunting with Falcons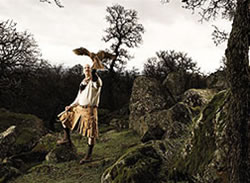 Hunting with Falcons: A West Coast school teaches the ancient art of handling birds of prey
Nikita grips my left arm so tightly that it hurts, despite the leather glove that shields me up to my elbow. She's staring at me with inky eyes, and I can tell she's got a lot to teach me. To that end, I've come to her home turf, a field long abandoned by the forty-niners of central California's gold rush read more at CNNMoney.com
Mythbusters on the Discovery Channel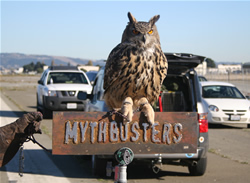 See us on MYTHBUSTERS Discovery Channel's popular TV show
Watch for the reruns of "Radar Gun Myth" and "Pigeons on a Truck"
Update!
Raptor adventures has set dates for this upcoming season. The winter as everyone knows has been extreme! We have been reluctant to post dates for availability due to the inclement weather and the snow pack. We are getting our birds in shape for this season. And will have them flying strong by our start date 14 April! Both locations will be available!
We are excited to announce that we are now able to offer our experiences at two new locations. We are partnering with the
Animal Ark
in the Reno area. We will soon be offering experiences in the beautiful Sierra Valley, CA with
Explore Sierra Touring Company
.
Learn More about our available
Experiences
, explore the calendar below or call us at 530.263.7569.