Contact Us
Jim Tigan - Master Falconer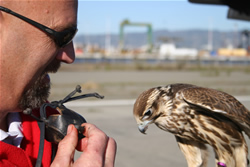 Phone: 530-263-7569
Email: hawksalot@gmail.com
Kathleen Tigan
Phone: 972-215-8251
Study Birds of Prey Up Close—
Take a Hawk Walk or a Class
Choose the high Nevada desert at Animal Ark in Reno, Nevada or beautiful Diamond S Ranch in the lost Sierras in Beckworth, California, (about 60 miles north of Lake Tahoe) with Explore Sierra Touring Company.
Prices from $95, individual. $135 for 2--participant & observer
Additional activities available at both sites.
REVIEWS
Read Full Reviews on Trip Advisor
"Absolutely awesome!"

"Talons, beaks, wings, and feathers are all poetry in motion."

"I was trained as a vet, yet I learned a lot."

"We experienced the power, speed, grace and intelligence of the bird."

"We were amazed at how well the bird responded to us."

"To be that close to a falcon and having it fly to YOUR glove is truly an amazing experience!"

"It exceeded our expectations."

"Jim makes everyone feel special."