About Us
Kathleen Tigan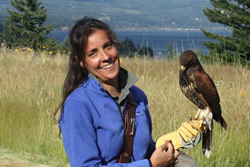 Kathleen has had a fascination with, and a love for, all animals from a young age – has breed, raised and trained Australian Kelpie's for working livestock, and Quarter horses to participate in range land roundups and in 2006 began volunteering with Dr. Jean Cypher at the Rowena Wildlife Clinic located in The Dalles, Oregon; further developing skills in husbandry and handling at the Raptor House Rehabilitation Center in Yakima, Washington, attending the International Wildlife Rehabilitator Basic Wildlife Rehabilitation seminars at the Cascade Raptor Center in Eugene, Oregon, and completed an internship for the Raptor program at the Oregon Zoo.
Jim Tigan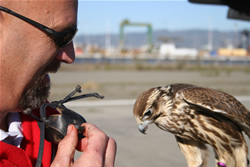 Jim Tigan has 32 years of experience handling raptors and has been a licensed Master Falconer for 27 years. He founded the world-famous Alaska Raptor Rehabilitation Center in Sitka, Alaska, while stationed in the US Coast Guard. His extensive experience includes hawking and training more than 20 raptor species.
Jim is the founder of Tactical Avian Predators (TAP www.tacticalavianpredators.com) which uses trained Falcons commercially.
Guests are given an opportunity for an up close and personal encounter with a Hawk, Falcon and Owl.
With the assistance of a licensed Falconer, you will learn the biology, conservation, field identification, traits, behaviors, natural history, and the importance of raptors.
Following a brief instruction guests will be fitted with a gauntlet and join a trained Hawk on a short walk – witness the agility and skill as she flies from perch to perch while swooping back to the Falconer's gauntlet.
Reservation Only
No Un-paid Observers
info@raptoradventures.com
775.240.8885
Book Now